Vegetarian Mexican Cuisine Pop Up – Milpa
November 23, 2021 @ 5:00 pm

-

November 27, 2021 @ 9:00 pm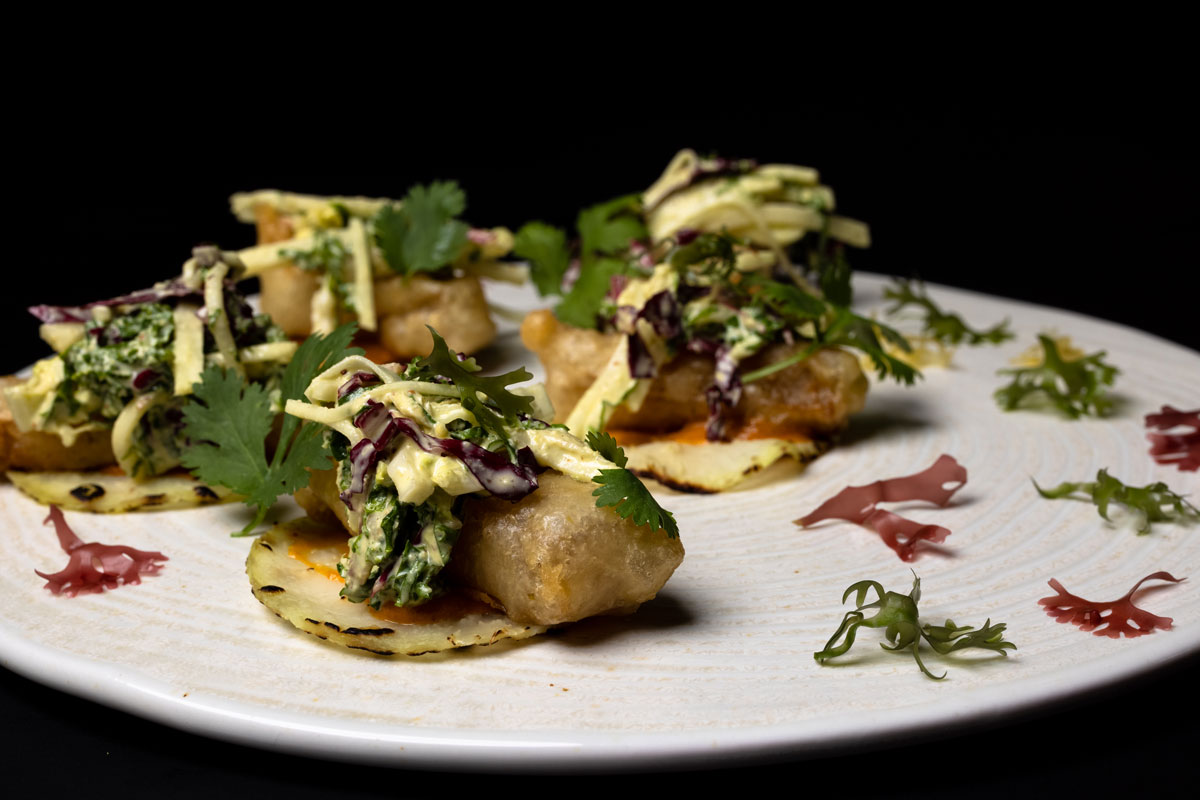 We're excited to announce the entry of @milpayyc to Shelter Cocktail Bar's kitchen November 10th to 14th. Milpa is helmed by Chef Adam Ryan and Chef Elia Herrera. Together the duo are creating a fresh combination of Alberta produce, Mexican vibes, and certified good times. Prepare to sample from a selection of Mexican, vegetarian goodness including:
sikil'pak + guacamole
Taro root, plantain, and yuca chips
–
chile en nogada
almond "cheese", poblano, saskatoon berry sauce
–
beet + parsnipian ceviche
raspberry, jicama, sea buck, serrano, haskap
–
baja kohlrabi tacos
kohlrabi tortilla, "fish", and slaw, chipotle mayo
–
veggie quesa birria
fennel, radicchio, mozzerella, consomme
–
spaghetti squash panucho
refried cranberry beans, pickled shallots, squash cochinita, habanero sauce
–
tamal de cazuela
aquaponic arugula, delicata squash, guajillo adobo
–
tres leches cake
coffee, cocoa, lime, rose
Translating to "three sisters," Milpa is a sustainable agriculture technique that focuses on the marriage of corn, beans, and squash. Sharing resources such as soil, sunlight, and water in the garden, these ingredients also share our cutting boards, frying pans, and dinner plates in the kitchen. With the focus on regional Mexican cuisine, ingredients, and culture, Milpa will use traditional techniques and flavours that incorporate seasonal Canadian veggies.
Elia originates from Córdoba, Veracruz, but spent years in some of Toronto's top kitchens as a pastry chef. After running the dessert program at such renowned restaurants as Canoe and Scarpetta, she decided to focus on the food she grew up eating. In 2014 she opened Los Colibris, a fine-dining Mexican restaurant with anattached taqueria named El Caballito. After opening up Los Colibris, she competed on programs such as Top Chef Canada and Top Chef Mexico, opened a "grab and go" vegan Mexican concept called Los Co, and most recently launched a taco kiosk in Scotiabank Arena.
Adam moved to Calgary from Toronto in 2019 to manage the kitchen at Calgary plant-based powerhouse The Coup after spending his life and culinary career in Ontario. Prior to moving to Calgary, Adam was the executive chef at Bar Reyna in Yorkville and opened up Reyna in the Assembly Chef's Hall in downtown Toronto. He spent a number years working as a private chef, both for VIP clients and on expeditions in Nunavut with Arctic Kingdom. While living in rural Ontario, he helmed the food program at Spirit Tree Estate Cidery and oversaw a kitchen that focused on the bounty of a working farm. Currently in Calgary, Adam recently opened the casual concept Shrub Bloom in The District Food Hall and is developing a vegetable-forward Canadian restaurant called Fire & Flora.